Restaurants of the Road
More Eateries

The Keg
Calgary, Alberta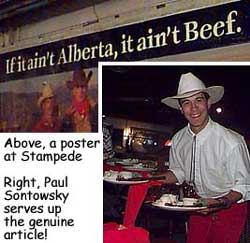 During the Calgary Stampede, everybody in town dresses Western, and there's plenty of opportunity to eat Western, too. There's no better place for Alberta-style steak than The Keg, a well-known Calgary institution. Steaks and prime rib are served year-round, of course, but during Stampede, you get a waiter in a cowboy hat and red jeans!
Paul Sontowsky informed us of our choices: four different sirloins, three New York steaks, filet mignon, and four sizes of prime rib. The "Kegga Megga" weighs in at a pound-and-a-half. The choices don't stop with the cuts, of course, because the chef wants to know how to cook it for you. Instead of the usual three levels of doneness, The Keg has seven, beginning with "Blue rare," and ending with "Chicago charred." "Blue rare is cold," said Paul. The menu also offers seafood and pasta, but we decided to enjoy the Stampede spirit and order beef.
We tried the special barbeque prime rib, which came with oustanding mashed potatoes, and a Dijon peppercorn sirloin done to perfection somewhere in between blue and charred. Both were too good to save for Marvin, and too big (even though they weren't "Kegga Meggas") to allow room for anything else. This was a shame, because the dessert menu looked tantalizing.
Manager Troyan Mason stopped by our table before we left. He told us The Keg was founded in 1971 in downtown Calgary. Now there are three Keg restaurants around the city. Any one of them is worth a visit, but if you go during Stampede, you better wear your boots. No matter when you go, take a huge appetite.
The Stadium Keg
1923 Uxbridge Drive N.W.
Calgary, Alberta
T2N 2V2
Telephone: (403) 282-0020
7/96