Restaurants of the Road
More Eateries

Taste of Texas
Houston, Texas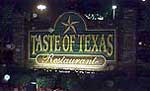 Native Houstonian Tom Frank told us about Taste of Texas. "It's huge, and they really treat you right," he said. "And don't forget to ask them to let you pick out your own steak."
Taste of Texas is indeed vast, and it has a clientele to justify its size. No reservations are accepted, and we were there on a Saturday night. Fortunately, the waiting room is gigantic, and you can help yourself to free soft drinks and chips. If you want something stronger, there's a walk-up bar, and you almost feel as though you're at a reception. The party atmosphere was enhanced by a bevy of high schoolers in formal wear en route to their prom.
We were escorted to our table by a smiling hostess, and greeted by a smiling waitress as we sat down. She gave us menus, and it was clear at a glance that this was not a venue for vegetarians. Susan Gibowicz, with whom we were dining, was in a mood for lobster, but Mark and I liked the idea of making friends with our steaks before eating them. We followed Cathy Marchbanks, our waitress, to the viewing gallery.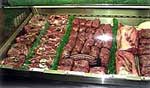 I have never seen a more impressive display of beef. Each steak had its own dog tag complete with serial number, and sure enough, when they arrived at our table cooked to perfection, they were the same ones we'd selected.
In the meantime, we helped ourselves to excellent salads at a salad bar so plentifully stocked we had to remind ourselves that it was only a first course.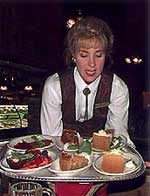 Our steaks were mighty fabulous, and Susan said her lobster was terrific, too. Cathy made the meal especially pleasant. Unable to find room for one of the magnificent desserts, we topped off our feast with a cup of delicious cinnamon coffee, a house specialty. (Click here for the recipe!)
Taste of Texas is aptly named as long as you remember that "taste" is an understatement. Like everything else in the Lone Star state, the portions are BIG! Make sure your appetite is equal to the experience!
Taste of Texas Restaurant
10505 Katy Freeway
Houston, Texas
(713) 932-6901
Edd & Nina Hendee, Owners/Operators

Take a Texas-sized appetite!