Restaurants of the Road
More Eateries

Stampede Breakfast
Calgary, Alberta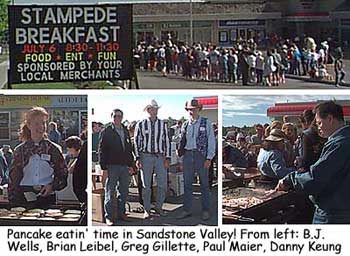 There may be no such thing as a free lunch, but every year about this time in Calgary Alberta, breakfast is gratis everywhere you turn. It's part of the tradition of the Calgary Stampede, which opened Friday, July 5, and lasts ten days. Merchants and civic groups all over the city pick a day to turn their parking lots into picnic grounds and flip pancakes for anybody who turns up. Breakfasts are listed in the newspaper, and most draw crowds in the thousands.
We attended a breakfast at a shopping center, where the merchants had gotten up very early and put on their best western duds to serve flapjacks, sausage, orange juice and coffee to all their neighbors in Sandstone Valley, a community in north Calgary.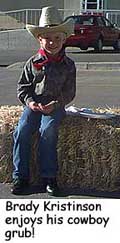 "We like giving something back to our community," says sponsor Brian Leibel, owner of the Sandstone Dairy Queen, who, with the other merchants in the center, planned and provided the breakfast. Paul Maier, manager of TD Bank, was one of the organizers. "We bought 150 kilograms of sausage and 40 kilograms of pancake mix. We planned for a crowd of about two thousand, and I think our estimate is pretty close." Other sponsors we met as we got our grub were Greg Gillette, owner of the Martinizing Company, Danny Keung, owner of United Drugs, and B.J Wells, who works for Dairy Queen.
Judging from the happy crowd that turned out to eat breakfast and listen to live country music, the tradition of the Stampede Breakfast is a popular one. "I love Stampede," said native Calgarian Brady Kristinson, 5, as he finished off his pancakes, an indication that the free breakfast tradition is sure to thrive with the next generation.
7/96