Restaurants of the Road
More Eateries

Mahoney's Silver Nugget Casino
Las Vegas, Nevada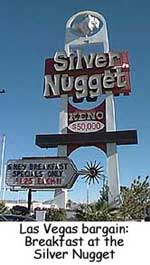 Every Las Vegas visitor knows about breakfast deals. Casinos vie with each other to pull in tourists with offers of ham and eggs for as little as 69 cents. Anybody who's been lured inside by one of these too-good-to-be-true offers knows that they're often disappointing. The coffee shop may be hidden in a labyrinth of slot machines. The menus may make no reference to the advertised "special," and unless you ask, you end up paying prices that are no bargain. Sometimes the number of tables at which the "special" is available is limited, and the line for those tables is hours long.
But wait! There is a place where the cafe special is easy to find, readily available, served with a smile, and good. Mahoney's Silver Nugget Casino offers six different breakfast selections for US$1.25 each. The specials are available from 11:00 p.m. to 11:00 a.m. in the Garden Cafe near the bowling alley.
I ordered the standard eggs, toast and jam, and Mark had a ham, egg and cheese muffin sandwich. We saw the "English Scramble" being delivered to another table, and it looked good, too. French toast, pancakes and fresh fruit were other options.
The Silver Nugget had another special going, too. Everything on the regular menu was available for no more than US$3.99. This made steaks and prime rib an excellent deal.
With everything you save on food, you can indulge in a little Keno while you finish your coffee. With any luck, you'll get the best Vegas deal of all: breakfast with a profit.
Mahoney's Silver Nugget Casino
2140 Las Vegas Blvd.
North Las Vegas, Nevada 89030
12/96