Restaurants of the Road
More Eateries

Harley's Rock Inn

Lake Hughes, California
UDATE: August, 2006:
We first discovered Lake Hughes in 1998, and the story that follows is a reminiscence of that visit. After a brief stint as "Harley's Rock Inn," this historic establishment is back to being called The Rock Inn and Lake Hughes Trading Post. Current information, including address, telephone number, hours, and some great photos, is online here.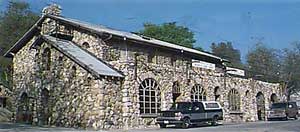 Lake Hughes is hidden in the hills between Santa Clarita and Antelope Valley, only about two hours from Hollywood. Its location made it a popular hideaway for movie stars as early as the 1920's, and the Lake Hughes Trading Post & Rock Inn were destinations of choice for many a celebrity.
Thanks to Linda and Larry Martin, longtime Lake Hughes residents, the Lake Hughes Trading Post and Inn are still welcoming guests for meals and lodging. Breakfast, lunch, and dinner are available in the bar, and if you want the total experience, you can stay in one of the six charming rooms upstairs. A penthouse, complete with kitchen, fireplace and enormous Jacuzzi tub, is also available. "We call it our 'adult pleasure palace,'" says Larry.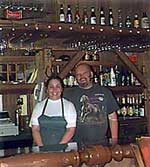 We had an early dinner at the Trading Post, and in the time it took Mark to eat a hamburger and me to finish off an plate of fish and chips, we had no doubt that the Martins' establishment is the nerve center of Lake Hughes. A steady stream of visitors brought local news, and even a dachshund named Marvin stopped by.
Lake Hughes is not on the way to anywhere except itself, but it's not far off major north-south corridors. If you find yourself heading north from Los Angeles on either Interstate 5 or Highway 14, remember that a bit of old California is within your reach. The Lake Hughes Trading Post & Rock Inn are worth a detour.