Restaurants of the Road
More Eateries

Robin's Restaurant
Pasadena, California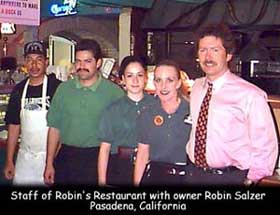 Robin Salzer and his crew have been serving up delicious portions of delectable goodies at his restaurant in Pasadena, California for fourteen years. One of our favorite entrees is the Cajun Jambalaya Pasta. Many selections are named after Robin's patrons, and new menus are always a pleasant surprise to those who find themselves featured.
Robin's believes "Kids are King" and provides free baby food and special birthday celebrations on Saturdays. "Kids" of all ages enjoy the lighthearted atmosphere. Robin's is well-known for sumptuous desserts like "death by chocolate" cake and wins awards every year for outstanding cheesecake.
Mark thinks Robin's has the best Bloody Marys in town, but he also enjoys the shake-style ice cream drinks laced with rum. Robin is an active participant in community events, and his mobile BBQ catering team is seen all around town serving up tasty comestibles at fairs and festivals. Local charitable groups benefit from Robin's fundraising dinners throughout the year.
Robin's Restaurant is located at 395 N. Rosemead, Pasadena, California.
Telephone: (626) 351-8885.
4/96