Restaurants of the Road
More Eateries

R.H. Tugs
Staten Island, New York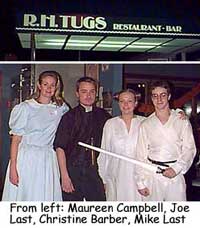 We wound up our visit to Staten Island with dinner at R.H. Tugs. Situated right on the edge of the Kill Van Kull, Tugs offers a fabulous view of an endless parade of barges, freighters and tugboats heading in and out of New York. Right after we sat down, we watched the MSC Rita, a ship full of containers marked 'Hyundai' float by with an ocean-going tugboat in close pursuit.
After a look at Tugs' eclectic menu, Mark decided on the 'Purgatory Pasta,' rigatoni with sausage in a fresh cream sauce. I passed up some great-sounding salads and fish specials to give the Cajun-inspired 'Blackened Burger' a try. While we waited, a freighter registered in Liberia passed, followed by some smaller crafts and another tug.
Inside Tugs, all was Halloween. The staff included Alice in Wonderland, Father Joe, Princess Leia, and Luke Skywalker. A red devil was serving drinks.
As far as we're concerned, every day's a holiday at R. H. Tugs. Where else can you enjoy great food and a never-ending boat parade?
10/96
R. H. Tugs
1115 Richmond Terrace
Staten Island, New York 10310
(718) 447-6369
pasta, burgers, seafood & pizza; reasonable prices, wonderful view