Restaurants of the Road
More Eateries

Pasadena Sandwich Company
Pasadena, California
RoadTrip America® update, December, 1998: The Pasadena Sandwich Company has moved, but it's still within a few blocks of Route 66. The new address and telephone number are listed at the end of the story, and the sandwiches are as good as ever.
Pasadena Sandwich Company is celebrating its second anniversary in March, 1997, which means it wasn't around when the original Route 66 tourists arrived at the end of their jouney in the land of palm trees and movie stars.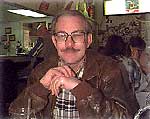 George Hamilton
If this place had been around in the fifties, it would have been just as popular as it is now. When we went there recently with our friend and guide George Hamilton, we joined a packed house of people waiting for French dips, Reubens, and a long list of other choices, including "Trust the Cook: How He Feels Is What You Get."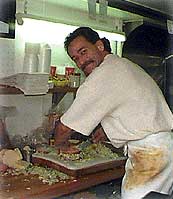 Steve Fink
The cook is Steve Fink, PSC's owner, and he was far too busy to pause for a sedate portrait. A one-man sandwich factory, Steve also greets everyone who comes in the door and tells jokes as he stacks the Dagwoods. Even though he seemed to be in a terrific mood, we opted safely for a French dip and a salami on rye. "They're huge," warned George. "I hope you're hungry."

While we waited for our food, Jeanninell Perkins brought us drinks in traditional soda fountain glasses, and we admired the decor. An impressive collection of bseball hats lines covers one wall, and there's sawdust on the floor. As the crowd inside grew, we felt lucky to have a table. "You should see this place at lunch time on a weekday," said George. "You can barely get in the door."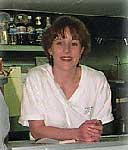 Jeaninell Perkins
The sandwiches were indeed huge, and arrived adorned with little flags made out of Beechies chewing gum packages and toothpicks, another bit of fifties nostalgia. One bite was enough to explain the crowd. Steve is a true sandwich master, and we're grateful to George for introducing us to his art.

Pasadena Sandwich Company
269 North Sierra Madre Villa
Pasadena, CA 91107
(626) 578-1616
"Call! We'll have 'em ready!"