Restaurants of the Road
More Eateries

The Original Pantry
Los Angeles, California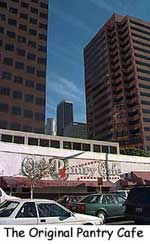 The Original Pantry Cafe may be dwarfed by the skyscrapers surrounding it, but it's far from intimidated. A Los Angeles landmark since 1924, it's now owned by L.A. Mayor Richard Riordan, who bought the restaurant to save it from the wrecking ball.
Ray & Judy La Madeleine of Glendale, California, invited us to join them for breakfast at this well-known eatery, which hasn't closed its doors once in 73 years.
we were here on a weekend, the line would go out the door and down the street," said Ray when we arrived. As it was, we were seated immediately by our waiter, Porter Wells, who's worked at the Pantry for 32 years. We were also greeted by Cesar, who knows Judy and Ray. He brought us plates of the Pantry's signature buckwheat hot cakes as appetizers.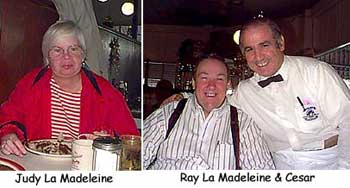 "The menu's on the wall," explained Ray, and we perused the breakfast options. "All the portions are huge," he warned. Porter arrived with four mugs of coffee, and we placed our orders.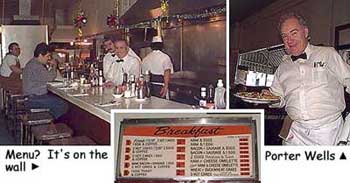 Speedy service is one of the Pantry's claims to fame. Even though the restaurant has only 84 seats, the staff serves 2,500 to 3,000 people daily. According to the entertaining booklet you can get from the cashier, this means they go through (among other things) 90 tons of bread, 7,200 head of cattle, 750,000 eggs, 3,000 hogs, and 208 tons of potatoes per year.
Speaking of potatoes, the hash browns served with breakfast were wonderful, made from real, unfrozen Idahos. They aren't even mentioned on the menu, but every plate comes with a healthy portion.
While the Pantry is known far and wide for breakfast, the restaurant is also famous for steaks. Since it's open around the clock, there's really no inappropriate time to head to the corner of Ninth and Figueroa in the heart of Los Angeles. Like thousands of other fans, we'll be back.
The Original Pantry
877 South Figueroa St.
Los Angeles, CA 90017
(213) 972-9279
"Never closed. Never without a customer."