Restaurants of the Road
More Eateries

Oink's Dutch Treat
New Buffalo, Michigan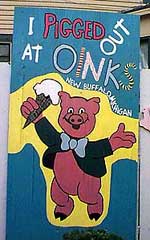 Pigging Out at Oink's
AUGUST, 1999
We left Chicago heading east, and spent the night near the Indiana Dunes on the southern end of Lake Michigan. In the morning, the balmy weather encouraged us to hug the shore, walk on the sand, and meander into Michigan.
It's a good thing we did, because it's the only way we would have found our way to Oink's Dutch Treat, a one-of-a-kind ice cream emporium in New Buffalo.
Actually, you can't miss Oink's. It's on the main drag in New Buffalo, right across the street from the post office. The building features lots of hot pink paint, and porcine images abound. And that name. We couldn't resist.

We were lucky to have arrived early enough to park in Oink's lot, which has reserved parking for Miss Piggy, among other similar personages. The fences surrounding the lot form a backdrop for a remarkable collection of pig and ice cream-related signs. We parked on Hog Heaven Road.
Inside, Oink's offers not only a feast for the belly- dozens of flavors or ice cream and frozen yogurt- but also a feast for the eyes. The ceiling is studded with hundreds of ice cream scoops, and shelves house a magnificent accumulation of milk shake blenders, ice cream freezers, and- you guessed it- pigs.
And there's history here, too. Oink's used to be a diner called "Carl's Hut," and the vintage menus have been carefully preserved under glass.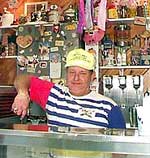 Roger Vink
Oink's is the creation of Roger Vink, who told us that everybody laughed when he opened his doors thirteen years ago. "They don't laugh any more," he said.
Oink's is so popular that Roger often has to have ten people working the counter. Roger also maintains a classic car collection whose most recent addition is a vintage Bentley. "Its license plate will be 'Sir Oink,'" said Roger.
Before we left, we visited Oink's gift shop, which features a large selection of candy and- you guessed it again- pigs. We were still licking our "single" ice cream cones, which were so big we can honestly say, "We pigged out at Oink's!"
Oink's Dutch Treat
227 W. Buffalo Street
New Buffalo, Michigan 49117
(616) 469-3535
Open March - October