Restaurants of the Road
More Eateries

The Mayfair Diner
Philadelphia, Pennsylvania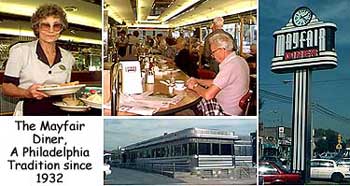 "Let's Have Another Cup of Coffee, and Let's Have Another Piece of Pie!" Whether or not you're old enough to remember tunes from the thirties, a wave of nostalgia will grab you when you discover the Mayfair Diner. First opened in 1932, the Mayfair has never forgotten its roots. When the time came to expand, the building was nearly tripled in size, but it still has every feature a true diner should: shiny metal siding, a long counter, and smiling waitresses with never-empty coffee pots and starched uniforms.
The menu selections hold with tradition, too: Chicken a la king over biscuits, meat loaf with mashed potatoes and gravy, breakfast all day. We had bean soup and sandwiches served by Trudy Friel, who's been a waitress at the Mayfair since 1989.
Many Depression-era diners have lost touch with their origins through remodel and replacement, becoming ordinary coffee shops in the process. The Mayfair proves that it's possible to preserve identity and style, and still keep up with the times. It's the Taj Mahal of American diners.
10/96
The Mayfair Diner
7343-73 Frankford Ave.
Philadelphia, PA
Phone: (215) 624-4455
Click here to visit a great Web site about all the diners in Philadelphia!