Restaurants of the Road
More Eateries

The Mad Greek
Baker, California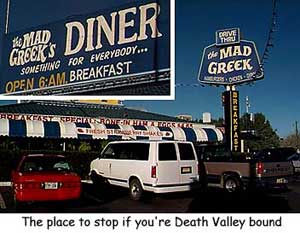 If you end up in Baker, California, chances are you're headed for Death Valley, or at any rate, somewhere else besides Baker itself. Baker is used to being thought of as drive-through town, and obligingly offers a full array of services to the steady stream of travelers.
At both ends of town, the billboards that stand out the most against the sand are the big blue and white ones announcing the Mad Greek's establishment. "Something for everybody..." they promise, and of course we had to find out what that meant for us.
The first thing that caught our eye when we walked inside was a large red sign offering "Tourist Help." The Mad Greek and his crew can communicate in an impressive selection of languages: American (pure Californian), English (some accent), Greek (ancient and modern), Arabic & Hebrew (weekends only), Chinese, Japanese, Hindu & Korean (by phone), French & Italian (Sicilian), Spanish & Mexican (pure), Turkish & Russian (friendly).
Pure Californian was our tongue of choice, and we ordered strawberry milk shakes. While we waited, we looked around, enjoying signs everywhere that extolled the glory of Greece, but also asked God's blessing on America. Most of the tables were taken, and customers were enjoying everything from shish kebob to french fries. It all looked and smelled wonderful, and we were beginning to regret that we'd already had lunch.
Then our shakes arrived, tall cups filled with ice cream, fresh strawberries and whipped cream, all blended into something good enough to serve on Olympus. Suddenly we were glad our lunch had been light.
Baker may be a way station to Death Valley, but the Mad Greek's strawberry milk shakes are worth a journey by themselves. They're fantastic in any language.
The Mad Greek's Diner
Baker, California
Just follow the signs and hope that strawberry shakes are available!
12/96