Restaurants of the Road
More Eateries

Liberty Seafood Restaurant

Jersey City, New Jersey
Breakfast, Lunch, Dinner, and Camping with a Million Dollar View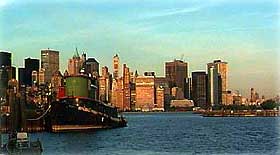 Most people don't even consider driving motor homes in Manhattan, and if they're planning a trip to the Big Apple, they stay in upstate New York or rural New Jersey and take bus tours. It makes sense, but there is, as we discovered recently, another option.
In Jersey City, right next to the end of the Holland Tunnel, there's a little oasis known as the Liberty Harbor RV Park. A boat marina, it has a smashing view of the Statue of Liberty and New York's skyline. You park your RV between sailboats, and within an hour, you can be in Times Square.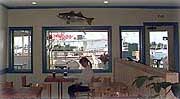 But wait! There's more! Right on the premises is another secret worth knowing about. The RV park's manager suggested we have breakfast at the Liberty Seafood Restaurant, which is right next to the docks. "It's great," she said. "The omelets are wonderful, and you can't beat the price."
The next morning, we headed for the wooden building on the water. We ordered breakfast at the counter and helped ourselves to large cups of steaming coffee. We sat near a window and watched a tugboat slide by.
Our breakfast arrived, and it was obvious from the firsy bite that we'd een steered in the right direction. I had the best mushroom and cheese omelet I've ever tasted, and Mark's vegetable and ham version was even better. We polished off the potatoes, too, and waddled back to our campsite.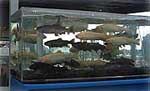 We came back for dinner. After placing our orders at the counter inside, we found a table on the deck with a view of Manhattan at sunset. Mark's broiled flounder with white sauce was delectable, and my tuna steak with garlic sauce was just as good. The salads and side dishes were outstanding, too.
You won't find linen table cloths at The Liberty Seafood Restaurant, and there's no china, either. They don't serve beer or wine, but they let you bring your own. What you get for your money is outstanding food and a priceless view.
And just how much money are we talking about? Dinner for two was about $20, and breakfast was half that. Really. No kidding. The Liberty Seafood Restaurant is a true find. So is the Liberty Harbor RV Park, a peaceful haven near Manhattan run by very nice people.
Megan
6/97

Liberty Seafood Restaurant
10 Marin Boulevard
Jersey City, New Jersey 07302
(201) 333-2882

Liberty Harbor RV Park
11 Marin Boulevard
Jersey City, New Jersey 07302
(800) 646-2066
Update, July, 1998: The restaurant has expanded to include a bar called the "Sand Bar" and a beach area.