Restaurants of the Road
More Eateries

JT Bar & Dining Room
Gardnerville, Nevada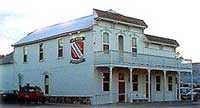 We learned about JT Bar & Dining Room from a local resident who answered immediately when we asked where to find a Basque restaurant. "JT," he said. "It's right on Highway 395, and you better be hungry!"

We took his admonition seriously, and we arrived at the turn-of-the-century inn at six o'clock with what we thought would be adequate appetites. A long bar stretched the length of one side of the room, and we could see the dining room beyond, already full of Saturday night diners.
A pleasant hostess seated us at a table at the far end of the room, one of the few set for two. Two long tables ran the length of each side of the room, and tables set for four and six fill the center.
"This is definitely a place to come with a crowd," said Mark, and he was right. The long tables were perfect for jolly conversation, and the food was being served family style.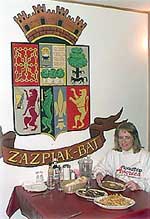 There was no menu, and our waitress soon brought us bread, butter and an unlabeled bottle of red wine. Salad soon followed, and as she set it down, our waitress said, "We've got several entrees for you to choose from: steak, lamb shoulder, rabbit, Basque-style scampi, and sweetbreads." Surprised by such an unusual selection, we took a minute to make up our minds. The steaks at the next table looked delectable, but Mark opted for the lamb. I finally settled on the sweetbreads, even though I overheard someone nearby commenting on how good the rabbit was. "Good choice," said our waitress as she departed.

I thought the entrees would be the next course, but I was wrong. Beef stew arrived, and baked beans. When our main courses finally did arrive, I was glad I'd limited myself to only one slice of bread. My sweetbreads were served in a tomato sauce, and Mark's lamb had been broiled with plenty of garlic. A huge plate of french fries arrived at the same time, and, needless to say, we were unable to clean our plates.
Dinner wasn't over until we'd been served chocolate ice cream and coffee. When our waitress arrived with the check (Under $35 for both of us!), we asked her if the restaurant was equally popular on week nights.
"We're full pretty much every night," she said, "And on weekends, big groups often come. Tonight we've got a wedding party of seventy coming in at eight o'clock. They're all out in the bar right now."
Sure enough, as we made our way back through the bar to the door, we saw that it was now full of merry makers, including a smiling bride and groom.
JT Bar & Dining Room has been serving Basque family-style meals for thirty-eight years in Gardnerville, and it was located in Virginia City before that. For travelers on Highway 395 south of Reno, it's a wonderful way station, but beware. Don't eat for three days in advance!
JT Bar & Dining Room
1426 Highway 395
Gardnerville, Nevada
(775) 782-2074