Restaurants of the Road
More Eateries

Casa de Bandini
San Diego, California
[Getting there] [More information] [Places to stay]
Editor's note (6/4/06): Although new operators are running a restaurant at this location, the original Casa de Bandini has closed and the owner is looking for another location. We will update this article when we receive the new information.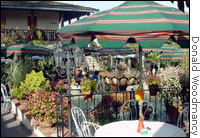 Patio dining at Casa de Bandini
One of San Diego's finest Mexican restaurants is located in one of San Diego's oldest buildings. The restored Casa de Bandini (built circa 1829) is the home of a wonderful restaurant of the same name.
Serving huge margaritas and the best Mexican food to be found in San Diego, Casa de Bandini has been voted both the "Best Mexican Restaurant" and the "Best Patio Dining Experience" in several newspaper and magazine reader's polls.
Lush gardens, fountains, and bright colors greet you as you enter their courtyard patio. The surrounding building is built in Spanish/Mexican colonial style. Originally the home of the Juan Bandini family and later an Old Town San Diego hotel, the historic edifice has been a restaurant since 1980. At those rare times when San Diego's weather makes patio dining less attractive, three indoor dining rooms are available.
My favorite entrée is the chicken mole enchiladas. The mole sauce has a sweet and earthy taste that accentuates the tangy Mexican spices in the enchilada. The menu also offers a variety of other dishes, including several with lobster. There's something for every taste at Casa de Bandini.
After you've enjoyed a hearty meal, you can walk it off in the Old Town San Diego State Historic Park, the oldest colonial settlement in California. A number of original haciendas, business, and commercial buildings have been restored and are well worth discovering. Be sure to duck into the Wells Fargo Museum for a glimpse of the frontier past.

Don Woodmancy
1/03