Restaurants of the Road
More Eateries

The Bucktail Hotel
Marienville, Pennsylvania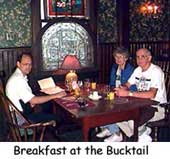 "Whatever else you do, you've got to have breakfast in the back room at the Bucktail Hotel." This was Dave Shaner talking. We were heading to the hideaway in the Allegheny Mountains belonging to his sister and brother-in-law, Marjorie & Bob Miller, and Dave wanted to make sure we didn't miss his favorite spot in Marienville, Pennsylvania. "Don't stop in the front room, even though it looks like you have to. Go right on through, right past the kitchen, like a local."
As it turned out, we had local guides. Marjorie and Bob took us to the Bucktail, and there was no question about where we'd sit. The front room was full of tourists in town for Octoberfest, but we headed straight for the back.
The back room at the Bucktail is defininitely worth knowing about. Tom Clark and Lowell Switzer, who have owned the Bucktail for sixteen years, have filled it with beautiful and fascinating antiques. We were glad we weren't in a hurry, because we wandered around looking at duck decoys, model cars, nutcrackers, antique glass, fixtures from turn-of-the-century restaurant kitchens and dining rooms, stained glass lampshades, wood carvings, lithographs and hundreds of other treasures. The room itself is beautiful, too, with a huge stone fireplace and a bay window overlooking a fern-filled garden.
The food is just as good as the surroundings. "Everything's fresh here," said Marjorie, and there was no question about it. "At dinner, they have a great relish bar," Bob told us. "It's set up on that huge mahogany table, and you serve yourself."
It was tempting to stay all day and taste it for ourselves, but dinner at the Bucktail will have to wait for another day. Make that dinner in the back room at the Bucktail.
The Bucktail Hotel
Route 66
Marienville, Pennsylvania
(814) 927-8820
1996