The Gold Rush Trail: California Highway 49
Historic Mariposa Hotel, Established in 1901
MOTHER LODE COUNTRY, CALIFORNIA—
[Getting There][Lodging][RoadTrip Facts][Links]
Gold! The cry went up from Sutter's Mill and brought tens of thousands stampeding into California from the four corners of the world. These '49ers established hundreds of instant mining towns along the western foothills of the Sierra Nevada. Many of these historic and picturesque towns still exist, linked by California Highway 49, The Gold Rush Trail. I joined the Trail at its southern end, in Oakhurst. In four days, I made it almost all the way to its northern terminus in Vinton, 326 road miles and a century-and-a-half away.
In addition to being packed with history, CA-49 delivers on the scenery front, too. Throughout its length, it twists and climbs past panoramic vistas. Rocky meadows, oaks, and piñon pines accent the hills, while tall firs and redwoods stud higher slopes. Delicate, multi-hued wildflowers splash color across fields and hillsides in spring and summer. Dozens of lakes, rivers, and streams provide counterpoint to stunning geologic wonders.
I made brief stops in many old mining towns along the Trail. They retain their early architecture and charm -living reminders of the rich history of the Mother Lode. Coulterville, Sonora, Angels Camp, Jackson, Nevada City, and Downieville all retain their 1850's flavor and are worth visits, especially if you like antique stores housed in vintage buildings. The California State Mining Museum in Mariposa offers an excellent collection of artifacts and explanations.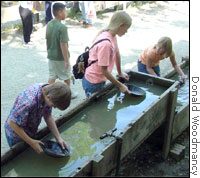 Panning for gold in Columbia
I stayed overnight in Columbia, one of the best-preserved old towns in Mother Lode country. The whole town is a living history museum, with docents dressed in period costumes. Activities include panning for gold and riding in a stagecoach .
Another great stop was the Marshall Gold Discovery State Historic Park at Sutter's Mill near Coloma. You can tour the mill and stand on the spot where James Marshall picked up those first tiny flecks that started the Gold Rush.
Hangtown, which has since been renamed Placerville, is where the famous "Hangtown Fry" was invented and is still featured on many local menus. An omelet with cheese, bacon, onions, and oysters, the first Hangtown Fry was whipped up during the height of the Gold Rush when a suddenly successful miner demanded, "the most expensive food you've got!"
Railtown 1897 in Jamestown is another living history museum and has been featured in over 200 movies and TV shows. You can enjoy their museum (open daily) and weekend train rides powered by steam locomotives.
Side trips off CA-49 abound. Just east of Angels Camp in Murphys, where the largest crystalline gold nugget in the world is on display - at 44 pounds, it's worth about $3.5 million. The town of Rough and Ready, whose evocative name offers some great photo opportunities, is just west of Grass Valley.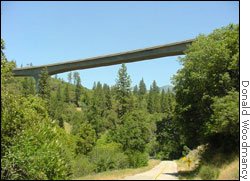 California Highway 49 spans a gulch south of Mariposa
Almost all of CA-49 is a well-maintained, two-lane roadway, but if you are impatient or in a hurry, this is not the route for you. Logging trucks and other large vehicles often slow traffic, and every town along the route has low speed limits. Think in terms of moseying, and you'll be in the right frame of mind.
It would be easy to spend far longer than four days cruising the Gold Rush Trail. This is exactly what makes the route wonderful, and it makes a great trip for kids. Interesting places to stop are never far apart, and the drama of living history appeals to all ages. There's no end to the nuggets you'll discover in California's Mother Lode Country.
—Donald Woodmancy
July 7, 2003
ROADTRIP FACTS
Time to allow: CA-49 can be driven in one day (This is a mountain road. Click here for driving tips.)To do it justice, allow 3-5 days. Exploring it in depth could take weeks or months.
Total Mileage: 326 miles

Special Events: Third weekend in May, visit the Calaveras County Jumping Frog Jubilee in Angels Camp, celebrating Mark Twain's story, The Celebrated Jumping Frog of Calaveras County. Traditional 4th of July celebrations and parades are held in almost all of the towns and cities along CA-49. Through the summer months, many towns have farmer's markets where you can purchase fresh produce and other items. Several towns along the route have Christmas festivals and craft shows in late November and early December.
Where It Is: CA-49 traverses the West slope of the Sierra Nevada in central California. Elevations vary from under 1,000 to 3,000 feet. The north end climbs to over 6,700 feet.
LODGING: Historic hotels and bed-and-breakfasts operate along with modern hotels and motels in every sizeable town.

WHAT TO BRING: Camera, sun block, sun glasses, hat, binoculars, a light jacket (except in winter when you'll need heavier clothing); walking shoes or hiking boots; sporting equipment suitable for your interests.

LINKS
Information, events, and resources on Highway 49
Amador County Visitor Information
Calaveras County Visitor's Bureau
Nevada County Visitor Information
Sierra County Visitor Information
Tuolumne County Visitors Bureau
California State Parks
Stanislaus National Forest

GETTING THERE
From the west, there are several access routes to CA-49 from California Highway 99. The southernmost is at Fresno. Take CA-41 north 41 miles to the beginning of CA-49 at Oakhurst. There are also main access routes from Merced, Modesto, Stockton, and Sacramento. From the north, CA-49 begins at its junction with CA-70, about 6 miles west of US-395 and about 31 miles northeast of Reno. You can also intercept CA-49 on either I-80 or US-50 from Sacramento, Reno, and Tahoe. An especially scenic access from the east, available only after the snows melt, around June 1st, is CA-120 from US-395, across Tioga Pass and Yosemite National Park.