Uncle Bob Goes to the River
Memorial Day 2004 was an excuse to see how my motorcycle performs on the highway. Starting point for my Route 66 journey was the rustic town of Oatman, Arizona. Started as a mining town, it was originally named Vivian after a nearby mine. Olive Oatman had been taken captive by Indians near Gila Bend, Arizona, in 1851. She was rescued in 1856 near Vivian. The town was eventually renamed after her son John. Today, the town draws tourists like flies to a pie! The buildings are mostly original, and the town has a "shacky" look. But it's rich in charm, burros, and tourists on the trail of Route 66. Bikers love it, possibly because of the twisty road over Sitgreaves Pass used to get there. There's no shortage of RVs either, although the streets are narrow and hard for larger vehicles to negotiate. I drank a cold Sprite and rode off into the valley below.
After a short stop in Laughlin, Nevada, where I won 8 casino dollars and looked with lust at the cold, blue waters of the Colorado, I headed back to Kingman and Route 66. I followed the old highway - with ruins of roadhouses, cafes and gas stations, a turn-of-the-century school house at Hackberry, then Truxton, Peach Springs, Seligman and Ash Fork - these names are an echo from countless Santa Fe railroad conductors whose trains still roar down the tracks along the highway. Steam gave way to diesel, but the countryside hasn't changed - open range, multi-colored mountains, blue Arizona skies. There aren't many people there and traffic is light. The roadway is excellent. I saw cattle! Bliss.
I stopped in Peach Springs for a permit to drive across the Hualapai Reservation to Diamond Creek and the Colorado River. I learned that motorcycles aren't allowed on that road. They said the road is rough and not suitable for motorcycles, but I know folks who drove a Ford Escort all the way to the river. But there was no point in arguing, and I went on to Seligman.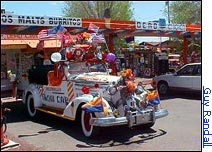 Seligman's famous Sno-Cap Drive-In
Seligman glories in its Route 66 heritage. I had ice cream at the Sno-Cap Drive-In and tried to locate the Texaco gasoline station that "starred" in a black & white Life Magazine photograph taken on a summer day in the '50s by Andreas Feininger. I had no luck, but I'll get a copy of that photo and try again. Folks are friendly in Seligman, and Route 66 souvenir items abound. If you need a Route 66 coffee mug, this is the place to get it.
My day ended in Williams, Arizona. "Heritage Days" was wrapping up, with street "gunfights," horse-drawn carriages, and a carnival. I ate at Rod's Steakhouse, still family-run in an old west cattleman's setting. The food and service were excellent, and I watched the steam train from the Grand Canyon roll back into town with a load of tired tourists before sacking out.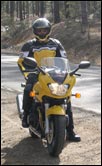 Bob Schaller
Next day, I rode home by way of Oak Creek Canyon, Sedona, and Interstate 17. Total mileage was about 700 (round trip from Phoenix). How did the motorcycle perform? I ride a screaming yellow streak -- it weighs a few less than 500 pounds. It's great on curvy mountain roads. You can ride it all day at 70 mph+, and it's smooth as velvet. But there is a reason riders buy big, heavy touring motorcycles for road trips - a lightweight motorcycle, even if smooth and powerful, will beat you to death on a road trip! I'd like to say it was worth it to be in the wind and seeing the countryside, but I may not walk for two weeks. As the memory of the pain subsides, I'm sure I'll remember only the joys of a ride on old Route 66!
Bob Schaller
June 13, 2004