Datastorm: A New Age in Mobile Connectivity
by Bill Adams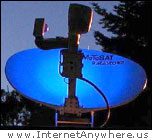 Blue light means high speed Internet access
In February of 2002 we purchased our first DataStorm antenna from MotoSAT and quickly found that there were many more uses for the Internet than we had ever considered before. Now we no longer get any of our credit card statements by mail -- I simply get an e-mail that says, "Your statement is available for download." I then schedule my payment, and I have never had a late credit card payment since. I also schedule my motorhome payments each month to be deducted at the right time, and I can track my bank account, investment accounts, insurance accounts, and almost anything else online anytime I like and as often as I like. Like many RVers, we use DataStorm to run our business on the road.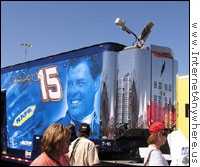 NASCAR Trailer equipped with DataStorm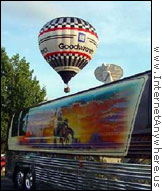 On the road and online: Willie Nelson's tour bus
There are 2 satellites available for mobile Internet connections. One satellite (SatMex5) covers the entire US and Mexico with the exception of NW Washington State and Idaho, Montana and N. Dakota north of I-90/I-94. It will also cover Eastern Canada, New Brunswick, Nova Scotia, and Newfoundland. The second satellite (G4R) covers the entire US and the populated areas of Canada but provides no coverage in Mexico and has fairly weak signal strength in Texas, New Mexico, and Arizona. This reduced signal strength does not affect Internet access except in cases of stormy weather, when the signal is lost sooner on G4R than on SatMex5. Severe weather causes a loss of signal on both satellites just as it would with a satellite TV connection.
Living on the road and enjoying this mobile lifestyle, we have the capability to travel just about anywhere to install the DataStorm systems. One afternoon we installed a multiple computer network on Willie Nelson's tour bus at his ranch just outside of Austin, Texas. We have subsequently installed over 100 networked and/or single computer DataStorm Internet systems in a number of entertainers' buses, emergency services trucks, oil and gas drilling rigs, and a whole slew of RVs.
Since we travel fulltime, one of the advantages we have found with having an Internet connection anywhere we go is that we have a local White Pages and Yellow Pages right at our fingertips every time we park the coach. A few weeks ago, our show schedule required that we travel 2000 miles in four days. We pulled into a town late one evening and, since we had to leave early the next morning, we stayed at the "Wal-Mart Astoria" for the night. It was cold and rainy, but there was a Chinese Restaurant across the street that looked like it would make for a nice quick meal. Instead of heading out into the weather, I turned on my computer, clicked on "Find Satellite," and within a few moments I was online looking at Chinese Restaurants in the local Yellow Pages directory. After locating the one across the street, I placed a quick call for take-out, and dinner was served!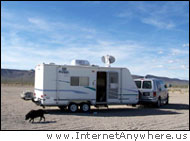 High speed Internet access means business in the wilderness
In the last three years, over 4000 DataStorm systems have been installed in the USA. There is a very active users group (www.DataStormUsers.Com) with plenty of photos, tips, and suggestions for using this technology. The DataStorm system is not for the faint of heart. The antenna sells for $4995 (including basic installation), and the monthly service charge is $99 a month for unlimited Internet access time. The price may be steep, but it's worth remembering that this type of Internet service enables fulltime RVers not only to stay in touch with friends and family, but also to run a business while traveling. With DataStorm, as long as you have a clear view of the southern sky, you will have an Internet connection. Additional information and tips are available on my Web site.
Bill Adams
4/18/04
To read Ron Bunge's DataStorm field report, click here.


Bill Adams has been living and working in a RV since 1997. He and his wife Janet have been installing and servicing DataStorm mobile Internet systems since February, 2002, and are now the largest dealer for Ground Control (the leading satellite Internet ISP). Bill is a frequent guest speaker at RV seminars around the country where he shares tips and secrets for using DataStorm technology and satellite TV. Perhaps the most unusual aspect of their business, Internet Anywhere.us, is that Bill and Janet provide technical support to their customers free for life.