Thornburgh the Dog
FORT BRIDGER,
JULY 20, 1999—

Marvin the Road Dog would have been honored to touch noses with Thornburgh, but we arrived a century too late. Wyoming's favorite canine passed away in 1888, dead from a mule kick after a decade-long life worthy of a Louis L'Amour novel.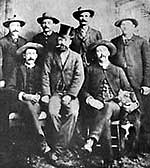 A Dog and His Friends:
That's Thornburgh on the floor at the far right, and his best buddy "Buck" Buchanan in the middle (wearing a top hat)
Thornburgh got his name in 1879, when he survived an Indian attack that took the life of Major T.T. Thornburgh. The dog became a sort of "camp follower," winning friends and admirers far and wide as tales of his heroism spread.
He captured a commissary thief and received a stab wound in the process. He warned soldiers of an attack in time to save themselves and keep their horses and mules from stampeding. He saved a young boy from drowning, and he saved a man's life by intercepting his attacker's knife-wielding arm.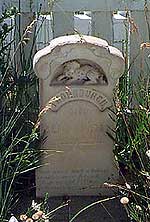 The marble headstone of
Thornburgh the Dog,
c.1879-1888
Thornburgh had many fans and benefactors, but it wasn't until "Buck" Buchanan came to work at Fort Bridger that he found a real human soulmate. They were inseparable until one of Buck's mules delivered the blow that ended Thornburgh's life on September 27, 1888. A grief-stricken Buck had an elaborately carved marble headstone inscribed with this
"Man never had a better, truer, braver friend.
Sleep on old fellow,
We'll meet "Across the Range."
According to the ranger at Fort Bridger, Thornburgh is the only dog ever to have received a military funeral. Buck Buchanan, on the other hand, is believed to lie in an unmarked grave in a cemetery in Salt Lake City.