| | | |
| --- | --- | --- |
| | | |
| | Everything you need weighs less than 20 pounds: The Napier X-Treme Sportz Pac ready to roll | |
| | | |
| | | |
| --- | --- | --- |
| | | |
| | The Napier X-Treme Sportz Pac unfurled: Tent with ample room for two VERY good friends, two campstools, and 2 summer-weight mummy bags | |
| | | |
Have Tent, Will Travel

by Tim Beaubien
Tents aren't just for backpackers!
I had to make a quick trip out to Sturgis, South Dakota during the annual event known as the Sturgis Motorcycle Rally to do a radio interview. Because this was going to be a solo trip, I took the opportunity to try out the Napier X-Treme Sportz Pac tent package that we sell at American Road Shop.
Two things need to be mentioned. First, I did not ride the bike out. I loaded my hot rod Sportster in the back of my Ford and drove like hell! The second is that a few years back I did a lot of backpacking, so I am very familiar with camping out of small lightweight tents.
The Napier X-Treme Sportz Pac consists of a standard backpack quality tent with a rain fly and vestibule, two summer-weight mummy-style sleeping bags, two folding camp stools, and a storage bag with D-rings for rigging to the bike. The entire package weighs 19 pounds and measures 24" x 14" x 10". This product is generally considered a 2-person package, but here's a word of advice. If you intend to use the tent for two people, the other person should be someone that you really, really, REALLY like!
The tent is approximately 6' x 7' in overall size and has about 48" of headroom. It features large dual side doors. Because you can enter and exit from both sides, you don't have to crawl over the person sleeping next to you to get out and take a nighttime constitutional. It has plenty of screened ventilation for summer nights, and a full rain fly with vestibules covers the entries. The vestibules offer minimal storage for dirty boots, jacket, and other gear. The tent is easy to set up and holds up very well in pretty high winds.
The campstools are about as comfortable as they look but way better than nothing, which is what you usually take with you on a bike trip. The two sleeping bags worked very well and are what I consider summer-weight bags (manufacturer-rated for temperatures down to 40°F). Keep in mind that I am 5' 10" and weigh about 175 pounds, and I found the bag had plenty of room for a mummy-style. Consider picking up a camp pillow from your local sporting goods supply store. These squeeze down to a very small size and are way better than yesterday's shirts!
The really amazing thing about this entire package is that it will all fit back into the carrying case.
If you have never camped in small spaces before, here is some Camping 101:
Cut a piece of heavy-mil plastic into the same basic shape as the footprint of the tent, except cut the plastic about 2" smaller all the way around. If it rains, the plastic will keep water from running under the tent and into the interior. This will also keep the bottom of the tent clean for repacking.



Always practice setting any new tent up before embarking on the trip. There is nothing more annoying than trying to read the instructions in the dark or rain or both. Even worse is when your neighbor asks, "Never done that before, have ya?"



Clean the area before pitching the tent. Rocks, sticks and bottle caps will find you about 3:00 a.m.



Before entering this portable nylon estate for two, HAVE A PLAN! Are you taking in all your stuff or just what you need for the night and morning? Will you remove your dirty boots before entry or after? These are the hard choices only you can make!
We found that this tent held up as well as tents costing twice as much, which makes the Napier X-Treme Sportz Pac a good value. While the tent life is not for everybody, it can be a very inexpensive and fun way to see the country on a bike.
Tim Beaubien
11/19/06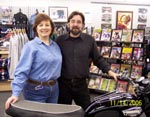 Tim & Barb Beaubien opened the American Road Shop in Waterford, Michigan in 2001. All of their products have been developed or tested by bikers to ensure that they are the best equipment out there. Tim's focus is developing and marketing products that directly enhance biker's safety and enjoyment while on road trips. If you have any questions about biking gear, apparel or art, Tim may be contacted here.