| | | |
| --- | --- | --- |
| | | |
| | Author Del Albright using a Power Tank to "air up" his vintage VW. | |
| | | |
| | | |
| --- | --- | --- |
| | | |
| | Ready for off-highway adventure: Power Tank mounted on a Jeep | |
| | | |
| | | |
| --- | --- | --- |
| | | |
| | Powerful enough to inflate large tires | |
| | | |
Power Tank - Better Than an Air Compressor!

by Del Albright
The single-lane dirt road was plugged with about twenty SUVs on a four-wheel drive road trip because one poor fellow had two flats at once! We were all lined up behind him. He had no air compressor and no one around him had on-board air. Fortunately, I had the cure. It's called a Power Tank.
The Power Tank looks like a SCUBA (diving) tank. But instead of oxygen, the Power Tank holds carbon dioxide (CO2). The CO2 is used to fill tires faster than an air compressor!
After 40 years in off-road adventuring, I was a bit skeptical when I was first introduced to Steve Sasaki and his Power Tank idea. I thought you had to have access to an air compressor for off-pavement road trips. However, it did not take me long to realize the value of this gadget called a Power Tank. I have had one ever since that meeting and have used it extensively for years.
Although the use of steel brackets is the preferred method for mounting Power Tanks in vehicles, the company also sells a system called a "Speed Bag" for most of the tanks. This speed bag includes the regulator, hoses, tire gauge and makes it easy to move from vehicle to vehicle.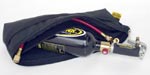 Power Tank's Mini-System
Another new product that we really like is the Mini-System. About the size of a wine bottle, it weighs three pounds and can fill three passenger vehicle-sized tires in a few seconds.
Perfect for roadside emergencies, the speed bag for this unit costs $190 and is small enough to carry in the trunk of any vehicle. The Power Tank Web site also has lots of useful information about tire inflation.
Field Report from Power Tank user Mark Helmlinger:
The Power Tank can deliver dry inert gas (which is why I used it for my
field work) to do things like blow dust off lenses and optical components. It can also fill tires and drive air tools. What's really neat for off-roaders is that it can deliver gas at a volume and pressure sufficient to "pop the bead" when mounting a tire to the rim.
—Mark Helmlinger
February 10, 2006
from Mark Sedenquist:
I decided to purchase a couple of the mini-tanks and put them in both of our road trip vehicles. It's pretty astonishing how much C02 one of the small tanks can hold. I have used mine several times for restoring air pressure after "airing down" in my Blazer and assisting other vehicles with low or flat fires. Just about any fire extinguisher company can refill the tanks, and I have found them to be an excellent addition to our road trip "Go-Kits"
Mark Sedenquist
February 11, 2007
For my stuck buddy with two flat tires, I merely snapped my Power Tank out of its bracket, carried it up the line to where he was stranded, and filled both tires in minutes. We put some Stop Leak in the tires, and he made it the rest of the tour. Several of us on the tour used my Power Tank to fill up our tires after the tour -- I was a popular guy.
Filling up your tires after a road trip becomes essential after you learn that "airing down" is the best trick to safe and comfortable off-roading.
Off-pavement road trips are a lot easier on your body (and your rig) if you air down your tires -- deflate them from road pressure, say 35psi, to around 20psi. You can use the back of an air gauge or the tip of an ink pen to do this. By airing down, you take away a lot of the bounce and jarring that some dirt roads give us. More importantly in many cases is the fact that when you air down, you also soften the tire impression on the ground which results in less damage to the road.
I tell folks new to four-wheeling to always air down. Get rid of some of that highway go-fast tire pressure to something that makes your dirt road life a lot easier. Twenty pounds of tire pressure on most car and truck tires will get you around, both on and off pavement. Just be careful not to get excessive with the speed, especially in curves, if you run on pavement at lower than manufacturer-recommended pressures. Better yet, air up after you get back to pavement.
That's where the Power Tank comes into play. Stop before getting to the pavement, whip out your Power Tank, and air up. You can do this about 30 or 40 times (or more) with one tank full of CO2, depending on the size of your tank and your tires.
The concept is simple: The liquid CO2 evaporates inside the aluminum cylinder and builds pressure which is released as a vapor gas (compressed air) through the regulator. As the gas is used, more liquid evaporates inside the aluminum cylinder thus regenerating the pressure. CO2 gas is non toxic, non-corrosive, and totally inert. This means it is safe on your air tools, rubber tires, and metal wheels. Further, it will not explode or take off like a rocket if the valve gets knocked off. It's safe to carry and use.
READY TO GO OUT OF THE BOX*
Depending on the package you choose, your Power Tank comes complete with a retaining bracket, gauges, carry handle and air hose with connections. You are ready to go the minute you take it out of the box.
[*Due to shipping regulations, Power Tanks are shipped empty. You will need to get them filled with CO2 before you hit the trail. We have found fire extinguisher service companies are one of the most convenient ways to get this done.]
COSTS
You can put together your own package, ranging from $350 to $600, depending on the size of your tank (5 pounds to 15 pounds), and the number of accessories you choose. I like the ten (10) pound bottle, with the tire gauge accessory. It's all most of us need. You'll get a lot of trips (and tire fill-ups) with this bottle. It's about $15.00 to fill it up with CO2, depending on where you live. I go to a welding or fire extinguisher shop to get mine filled. It takes about 10 minutes to fill one.
I carry a Power Tank in my Jeep, as well as in my pickup truck and RV on long trips. It's just too handy not to have along. I've tried 12-volt type air compressors, and they just don't have enough juice to fill tires with any speed or convenience. The Power Tank makes short work of a low tire. So learn to air down and soften the ride on your dirt road trip, and rest comfortably that with the Power Tank along, you'll always have a good source of tire-filling air.
Del Albright
2/5/06

Del Albright is an internationally published columnist who has been exploring and writing about off-highway destinations for over 20 years. He is an advocate for sensible management of public lands and works tirelessly to ensure access for motorized recreational users through his work with the BlueRibbon Coalition. His articles have appeared in magazines, newspapers and off-highway enthusiast periodicals. Del shares advice for properly equipping road trip vehicles and insider tips about little-known off-road destinations. If you have any questions about off-highway adventuring, Del may be reached at del@roadtripamerica.com.