Guidance From Above

How to Choose the Right GPS System
by John Booth of TripGadgets.com
| | | |
| --- | --- | --- |
| | | |
| | Magellan RoadMate 2200T | |
| | | |
Many of us who have thus far avoided using a GPS receiver may be wondering what a GPS receiver does, what benefits the technology offers, and which models to look into.
Let's start with a description of the technology. Global Positioning Satellites (GPS) are a series of satellites that work in combination to provide latitude, longitude, and altitude information to GPS receivers around the globe. There are many types of GPS receivers. Some of the most popular units are used for overland travel (hiking, golf, etc.), water-based travel, and road travel to name a few. This article focuses on road-based GPS navigation systems.
Most road-based GPS systems on the market today combine a number of technologies to create a highly effective navigational system. In general, road based GPS navigation systems help direct you to your destination. Listed below are the key features that a GPS navigation system should have:
Turn-by-turn navigation to your destination
Pre-loaded maps with a means to update maps over time
When turns are missed, the system should have the ability to
reroute dynamically to get you back on course
Ability to save destinations for use later. For example, the system should be able to save your hotel address so you can explore big cities without fear of getting lost on the way back to the hotel.
Ability to integrate real-time FM radio traffic advisories into the route information. The ability to receive specially formatted FM radio or Satellite service traffic information is one of the most exciting new features available. Certain GPS receiver units are able to integrate information about traffic congestion or accidents. Systems capable of accepting this information can then suggest an alternate route around the problem.
| | | |
| --- | --- | --- |
| | | |
| | From top to bottom: Garmin StreetPilot c340, Magellan RoadMate 2200T-North America, TomTom ONE | |
| | | |
Based on the five essential features listed above, check out the Garmin StreetPilot c340, Magellan RoadMate 2200T - North America, or the TomTom ONE (with Plus service). All three of these models are traffic service upgradeable and each offers some interesting features.
If you are looking for the easiest GPS receiver to use, I recommend the Magellan RoadMate 2200T. As the creators of Hertz Neverlost, Magellan knows how to make systems that are easy to use. The 2200T balances ease of use with some very interesting features and upgrade options. One feature, SmartDetour, isn't immediately noticeable. The 2200T senses when you have slowed below 10 miles per hour for a few minutes and automatically offers a detour. You can also add Magellan's TrafficKit traffic advisory subscription to the 2200T. Additionally, the unit is able to accept topographic maps and run eight hours on battery. The topo map upgrade will allow you to also use the 2200T as an overland GPS unit for hiking etc.
Finally, consider renting a GPS navigation system for your next road trip. Renting offers a great opportunity to try out a particular set of features and get a better understanding of how easy the systems are to use.

John Booth
11/5/06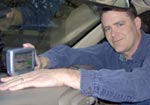 John Booth is the owner of TripGadgets.com which rents travel related electronics. John is techie who loves to travel. Before starting TripGadgets, John worked as Operations Manager for a consumer electronics wholesaler. Currently John and his family live in Indiana. They travel as much as possible testing the products they rent.