A trip to the Hawaiian island of Oahu is just not complete without spending a day at
Hanauma Bay Nature Preserve,
one of the most beautiful beaches in the world, and one of the finest places to go snorkeling. A coral reef that formed on the remains of an ancient volcanic crater, Hanauma is a horseshoe-shaped enclave where just about every manner of colorful marine life imaginable strays boldly into the water to greet human visitors.
When you arrive at the visitors' center you'll be required to watch a little orientation video that urges you among other things to show respect for the creatures you encounter. You are cautioned not to step on the coral, which is itself a living thing. Not only is it easy to cut your feet, it's also easy to damage this fragile structure. Before you stroll down to the beach below, be sure to take time to admire the view – you can look down upon the water and see the patchwork of different colored coral beneath the surface.
Bring along your own snorkeling gear if you have it, or else you can rent it at the site. You don't need a life jacket or even swimming skills unless you want to venture out into deeper water. For the most part, the marine life will come to you: Just stick your face in the water and you'll observe an astonishing variety of fish you probably never even knew existed. Surgeonfish, Wrasse (including an especially colorful variety called the Christmas-wrasse), Butterflyfish, Coronetfish, Milkfish, Flagtail, and the Moorish idol, among many many others.
You'll probably even spot the state fish, the Humuhumunukunukuapua'a, which is much smaller than its name suggests. You'll not only see the impressive Parrotfish, but hear it, as it snaps its jaws to make a distinctive crunching sound. With any luck, you might even spot an octopus or a giant sea turtle. Whatever you see, it's guaranteed to be mesmerizing.
IF YOU GO: The parking lot often fills up, so if you're driving you should plan to get there early. The Bay is also easily accessibly by bus. Plan to spend at least half a day if not a full day. But be aware that at any time of year, you could get chilly and quite possibly sunburned if you don't take precautions. Consider alleviating both problems by wearing a wetsuit, especially since sunscreen does wash off eventually, and in large quantities it damages the coral.
WHEN TO VISIT: Any time of year is fine in this tropical climate. You might find the beach less crowded in the afternoons than in the mornings. In order to give the reef a chance to replenish itself, it's closed to the public one day each week (Tuesday).
JURISDICTION: City and County of Honolulu
INFORMATION CURRENT: December 2010. Last visit May 2008.
ADDRESS: 7455 Kalaniana'ole Hwy. (Hwy 72), Honolulu, HI 96825
(21°16′17″N, 157°41′40″W)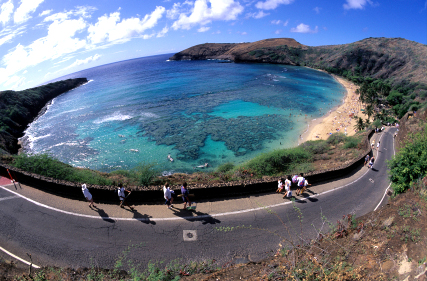 Sea life, up close and in your face at Hanauma Bay
Photo courtesy of iStockPhotp.com © tropicalpix