No trip to the Hawaiian island of Oahu is complete without a visit to the
USS Arizona Memorial
at Pearl Harbor, on the outskirts of Honolulu. This formerly tranquil military installation was shocked into World War II on the morning of Dec. 7, 1941 with a Japanese attack that killed about 2390 Americans. Of those, 1177 were crew members of the Arizona, which sank with more than 900 crew aboard and has remained submerged (with only a small part of it protruding from the surface) as a memorial. Since 1961, there has been an artistically designed viewing platform in the water, spanning the hulk of the sunken battleship.
In the visitors center, you can watch an orientation film about the infamous attack, including some amazing footage shot by the Japanese pilots who conducted the air strike. There are also other videos, including one about the Arizona's appearance in the 1934 Oscar-nominated film 'Here Comes the Navy', with actress Gloria Stuart recalling her experiences filming on board. (Coincidentally, Stuart would star 63 years later in another Oscar film about a sunken ship: 'Titanic'.) There are also photos, uniforms and other memorabilia on display.
Then you board a little boat, operated by naval personnel, that ferries you out to the 184-foot platform, straddling the galley of the ship. The names of the victims (still interred in the ship) are inscribed on a wall, where you may lay flowers (and even lay leis) in respect if you wish.
One of the most poignant things about the experience is watching the oil that still oozes to the surface 7 decades later. The ship was carrying 500,000 gallons of fuel-grade oil, so it's likely to keep paying its silent tribute for many years to come.
IF YOU GO:
Admission is free, and so is parking. For a fee, you can also tour the USS Bowfin and the USS Missouri, which also was damaged in the attack. Accessible from bus line #42. No bags are allowed inside the visitors center, but you can check bags at the entrance for a small fee per bag. Be advised that depending on when you arrive, there could be a long wait (up to 2 hours) in the visitors center before your tour departs. There are exhibits that will hold your interest for most, if not all, of that time. The actual time spent at the memorial itself is only about 15 minutes, but well worth the wait.
WHEN TO VISIT:
Open every day except Thanksgiving, Christmas and New Years. Heaviest crowds are during summer, winter and spring break. The last tour to the memorial departs the visitors center daily at 3:00 pm.
JURISDICTION: National Park Service
ADDRESS: 1 Arizona Memorial Place Honolulu, HI 96818
INFORMATION: Nov. 2010. Last visit May 2008.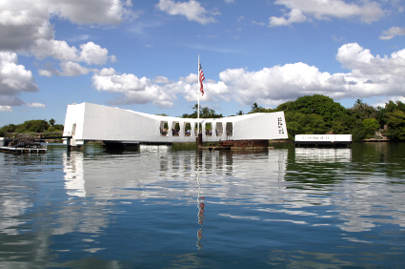 USS Arizona Memorial in Pearl Harbor
Photo courtesy of iStockPhoto.com / © Kristina Castagnola