The largest natural travertine bridge in the world can be found in a narrow gorge between Payson and Pine, Arizona. Pine Creek flows towards the East Verde River under the 183-foot high span. Formed and shaped by geological processes and carved by this same creek over millions of years, the bridge is truly a natural wonder. Now an Arizona State Park, visitors can walk out over the span, which is 150 feet at its widest point, or hike down to the bottom and look up through the arch. Water sprinkles over the lip and water flows through the creek bottom, collecting in several deep pools. Above, picnic tables, overlooks and trails make this park a nice place to spend a few hours.
A museum and gift shop is housed in the visitor center, once used as a lodge built by David Goodfellow, nephew of the original homesteader built.
IF YOU GO:
The park is open five days a week from 9 a.m. to 5 p.m., closed Tuesdays and Wednesdays. Admission is charged.
WHEN TO VISIT:
Spring, summer and autumn are the most pleasant times to visit.
JURISDICTION:
Arizona State Parks.
INFORMATION: October 2010
ADDRESS: Located off Highway 87/260, 10 miles north of Payson.
Mailing address: P.O. Box 1245, Payson, AZ 85547. 928/476-4202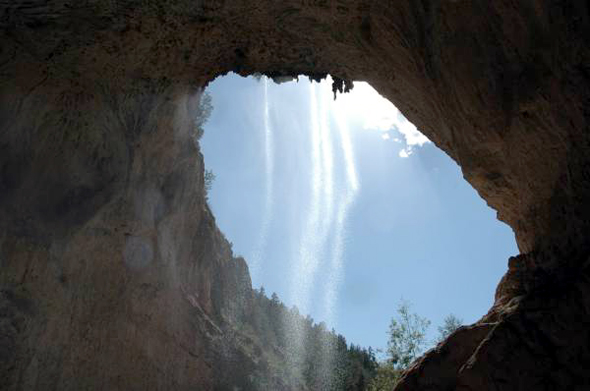 View from under the Tonto Natural Bridge
the world's largest travertine bridge
Photo courtesy of George Bruzenak