Washington, DC is a vibrant, compact city, but you don't have to go far away from Capitol Hill to get some peace and quiet and enjoy the sights, sounds and fragrances of nature undisturbed by city chaos.
The National Arboretum,
situated on the northeast side of town, comprises 446 acres of trees, shrubs, flowers trees and other plants, from perennials to herbs to bamboo to ferns to bonsai. With nearly 10 miles of roads and pathways winding through the park, it's easy to explore the horticultural treasures by car, foot or bicycle. And admission is free.
Established in 1927 as a research and educational facility, the Arboretum is engaged in developing new plant species and technologies, and new ways to resist plant diseases.
It also offers educational programs such as group tours, hikes, lectures, demonstrations and special exhibits. There is also a Bonsai and Penjing Museum on the premises housing about 150 specimens of these ornamental Asian plants, and a 12-acre Chinese Classical Garden is being developed with the assistance of Chinese officials and experts.
In the midst of it all is a reminder that you're still inside a city with a significant national heritage: a display of classical columns that formerly were part of the U.S. Capitol from 1828 until 1958. But they blend right in with the natural surroundings so well that you'd think they were designed for this environment. And with such a backdrop it's no wonder that the Arboretum is a favored location for wedding photography.
IF YOU GO:
The Arboretum has plenty of free parking. On busy days, a snack concession may be available. Be sure to have comfortable walking shoes and feel free to bring your bicycle if you wish.
WHEN TO VISIT:
Open every day except Christmas until 5:00 PM. You'll see the most color during warmer months, of course, but there are plenty of interesting plants and special events throughout the year. Check the on-line calendar for updates.
JURISDICTION: U. S. Dept. of Agriculture
Last visit Oct. 2010
ADDRESS: 3501 New York Ave. NE, Washington, DC 20002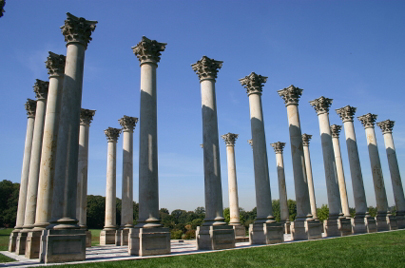 The Capitol Columns at the National Arboretum
Photo courtesy of iStockPhoto.com / © Skipper Warson