Where else can you possibly expect to see such All-American treasures as the ruby slippers worn by Judy Garland in 'The Wizard of Oz,' or the kitchen Julia Child cooked in during her long-running TV series, or even the chairs that Archie and Edith Bunker sat in. Don't forget the trademark top hat Abraham Lincoln wore to Ford's Theater where he was assassinated, the lunch counter where the Greensboro Four staged their sit-in for integration at Woolworth's in 1960, and the actual Star Spangled Banner that inspired Francis Scott Key to pen his little tribute in 1814?
Amazingly, they (and many, many other rare cultural and historical artifacts) are all housed under one roof at the
Museum of American History
in Washington, DC.
Even more amazingly, this is only one of 17 museums in town that comprise the
Smithsonian Institution.
More amazingly still, they're all open to the public absolutely free.
Whether your interest is art, history, science or pop culture, you'll find at least one museum to intrigue you. The treasures range from Asian artifacts that have been around for a couple of millenniums to abstract contemporary works by cutting edge artists, from a history of transportation in America to the achievements of Thomas Edison and other inventors, to a display of rare musical instruments including several Stradivari. The recently opened American Indian Museum preserves the traditions and struggles of many nations of North and South America. (An African-American museum is slated for a 2015 opening.) The millions of items in the Smithsonian's collections are in rotating exhibits, though many of them (such as those mentioned above) are on more or less permanent display. The National Air and Space Museum has outgrown its Washington digs with its ever-expanding inventory, and therefore has opened up an
additional venue in Chantilly, VA
- 30 miles south of DC. There's even a Postal Museum in DC, though it's a bit separated from the main cluster.
The most popular museums are located along The National Mall, a short distance from Capitol Hill, the Washington Monument, The White House, and many other famed attractions. But don't expect to take in everything in one day.
IF YOU GO:
Street parking in DC is virtually nonexistent, and garages and lots are expensive. Consider public transit if that's an option. Make your first stop the visitors center, in the distinctive 'castle', to get an overview. If you're going to have lunch in one of the museum cafeterias, the most interesting selection is at The American Indian Museum. Bring your own lunch if you like, but there is no eating outside designated dining areas.
WHEN TO VISIT:
Smithsonian Museums are generally open daily except Christmas. While there is some variation among the different museums as to specific hours, most usually close at 5:30 PM. The Mall is often the site of rallies and other special events (usually on weekends during warmer weather), which can add some more color to your visit, but it can also create traffic issues. Plan accordingly.
JURISDICTION: The Smithsonian Institution
Information Verified by Dennis Goza: October 2010
ADDRESS: (Information Center castle) 1000 Jefferson St., Washington DC 20560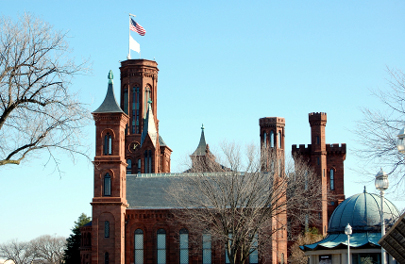 View of the original castle-like profile
of the original Smithsonian building in Washington DC.
Photo courtesy of iStockPhoto.com / © travelpixpro