Strolling through a flower garden may not sound like an exciting way to spend a day. But
Butchart Gardens
is not your average flower garden. For over a century, it has been a feast for the senses that has delighted visitors from all over the world. From the rare sculptures that greet you at the fountains to the more than 700 varieties of flowering plants, to the butterfly gardens featuring thousands of free-flying butterflies, to the concerts and special events, there is something to inspire and awe in every inch of this 55 acre complex. And there is plenty to see any time of year, but of course you'll get the richest palette of color during the period from June through October.
Of particular interest is the Japanese garden section, one of the earliest sections established by Mr. and Mrs. Butchart, the original owners. In addition to some fine specimens of Japanese horticulture, landscaping and stonework (the stone 'birdcage' constructed with an irregular design to resemble rough wood is particularly noteworthy), be sure to check out the clever bamboo timing device that collects water from a stream until it has enough to generate movement and make a noise.
Plan on spending at least 2 hours in the gardens, but chances are you'll be so spellbound you'll want to stay longer. In case you get hungry, three restaurants are located on the premises. And while you're admiring the fountains, be sure to rub the nose of 'Tacca' the bronze bull for good luck. You'll see that it's already polished by countless others who've done so.
Butchart Gardens is just outside the quaint city of Victoria on Vancouver Island, a soothing ferry ride away from the city of Vancouver.
IF YOU GO:
Be cautious if trying to find this attraction by GPS - some people have reported inaccurate results. There is free parking, and the lot even accommodates RV's.
WHEN TO VISIT:
There is beauty here any time of year. You'll catch the most color in summer (June - September) when flowers are in full glory, and you can also enjoy summer concerts. You'll see a great deal of color in spring (March-June) as the flowers bloom. October and November bring out the vibrant fall palette, especially in the Japanese garden. During the generally mild winters you can visit an indoor garden as well as the historic Butchart residence, and admire the holiday decorations. You can also indulge in ice skating if you wish.
JURISDICTION: The Butchart Gardens Ltd.
INFORMATION VERIFIED BY Dennis Goza Last visit , April 2010
ADDRESS: 800 Benvenuto Ave., Brentwood Bay, BC V8M1J8, Canada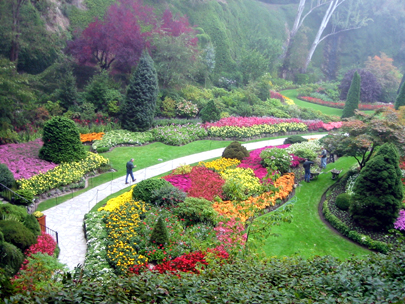 One of the most amazing gardens
in the world is found on Vancouver Island
Photo courtesy of Margaret Sedenquist