Walking across the open fields of
Olustee Battlefield Historic State Park
is a sobering experience. It has been said that to understand America, one must understand the Civil War. Here, at this battlefield, some of the history of that war can be discovered. It was the site of one of the bloodiest battles of the war with 3,000 causalities after 10,000 Confederate and Union soldiers engaged in the five-hour battle. In the end, it was a victory for the Confederacy, as the Union retreated to Jacksonville for the remainder of the war.
Today, the eerie quietness at this park is only interrupted by an occasional car driving through or a train whistle from a train rumbling along the railroad tracks that skirt the park. A pathway meanders through pine trees and interpretive signs along the way tell the story of the battle.
A small museum is located at the park, where visitors can view some of the artifacts of the Civil War and learn more about the Olustee Battle. An ongoing documentary is available in one of the rooms.
Behind the museum, several monuments and canons are located, honoring those from both sides of the conflict. And a large paneled sign and map also provide more details of the day the Confederate and Union soldiers met.
This area of Florida is part of the
Osceola National Forest,
and just beyond the state park is Ocean Pond, a large lake that received its name from the fact that when the wind blows across the lake, the waves give it the appearance of an ocean. A beach is on one side of the lake, while a lakeside campground with boat ramp is located on the opposite side.
IF YOU GO:
Pack a picnic lunch to enjoy under the shade of the oak trees or head into Lake City and eat at one of the many restaurants there. Plenty of room in this park for any size RV to maneuver.
WHEN TO VISIT:
The park is open 365 days a year. Each February a Civil War
re-enactment
is held and the Olustee Civil War Expo usually takes place in September.
JURISDICTION: Florida Park Service and U.S. Forest Service
INFORMATION VERIFIED BY Anne Sponholtz: Last visit 2009
ADDRESS: U.S. 90, Olustee, FL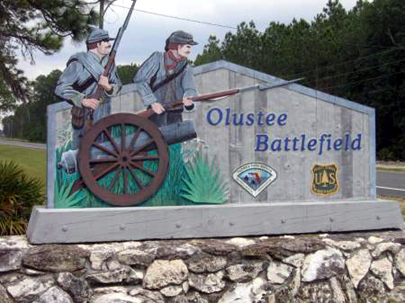 The entrance to Olustee Battlefield
Photo by Anne Sponholtz