Located east of Ocala is the world's largest artesian spring. Visitors to
Silver Springs
can get an up close and personal view of the springs by hopping on one of the park's popular glass bottom boats. But there is much more to Silver Springs than just the famous glass bottom boats.
Year-round the park's calendar is packed with special events and entertainment. Each winter, music lovers find a variety of entertainment in the park's line-up of weekly performers.
Some of these performers may no longer be headliners in Las Vegas, but they sure can thrill the crowd of young and old alike, who tote their lawn chairs into the park to enjoy an afternoon of entertainment.
Several small gift shops line the shopping and restaurant area, which overlooks the headwaters of the Silver River. Outdoor dining is provided at most of the restaurants. Benches are located through out the park, so there is plenty of opportunity to just relax, take in the sights and sounds or play cards.
Pathways through the park are surrounded with well landscaped gardens. Several rides also add to the list of entertainment. Holidays such as Halloween and Christmas bring the park alive with special events and displays, and the Festival of Lights has long been a big crowd pleaser.
IF YOU GO:
Be sure to take your camera. Special area designated for RV parking.
WHEN TO VISIT
: Year-round. Check web site calendar for special events and days/hours of operation.
JURISDICTION: Palace Entertainment holds the management lease. Land owned by State of Florida.
INFORMATION VERIFIED BY Anne Sponholtz: Last visit , early 2010
ADDRESS: 5656 E. Silver Springs Blvd., Silver Springs, FL 34488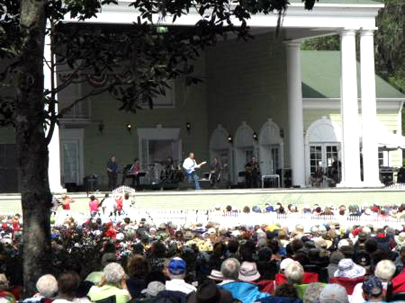 Country pop singer Glen Campbell entertains at Silver Springs
Photo by Anne Sponholtz