Kanapaha Botanical Gardens
is well known for its enormous bamboos, herb gardens and gorgeous water lilies. It stretches across 62 acres. A 1-½ mile paved pathway winds and weaves through the 24 major collections at the gardens. Bridges and waterfalls enhance the beauty and landscape.
Pick up a map of the gardens at the visitors center and plot out your route. Several trips to the gardens may be helpful for those who wish to stroll from garden to garden, enjoy every aspect of each collection and see the different seasonal changes. Stop along the way at one of the many benches and gazebos. Pack a lunch and enjoy a picnic at the picnic areas.
Fido is welcomed, but keep him on a leash. Most of the pathways are wheelchair-accessible. And the gift shop is packed with unusual and unique gifts. Both children and adults will enjoy the challenge of walking through the labyrinth. Meandering through the gardens, visitors should, however, watch out for snakes.
Special events, such as orchard shows and bamboo sales, are held at least seven months a year. The gardens are popular for weddings and other indoor and outdoor events.
IF YOU GO: Wear your walking shoes. Check the weather, as this is an outdoor venue. Closed Thursdays. Admission: Adults - $6; Children 6-13 - $3; Under 6 - Free
WHEN TO VISIT: Year-round, but in the spring, many of the flowers show off their blooms.
JURISDICTION: North Florida Botanical Society
INFORMATION Verifiied: Last visit April 2010
ADDRESS: 4700 S.W. 58th Drive, Gainesville, FL 32608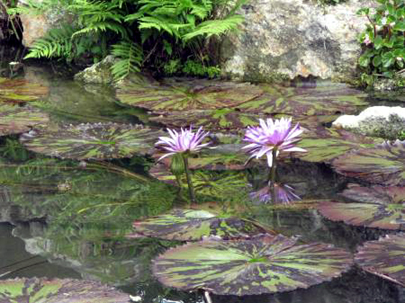 Water lilies at Kanapaha Gardens
Photo by Anne Sponholtz